ABOUT THIS PROJECT
Bosvark is a one man live rock show. I sing in Afrikaans and English. I'm planning an in-depth South African roadshow and documentary. I Am trying to raise funds for a campervan.
THE BACKGROUD
Hi, my name is Gary Pink, singer songwriter. I am a one man band, called Bosvark. Using Afrikaans and English, I have prepared a live show and I want to take it across South Africa, dubbed the "Bosvark Roadshow".
I plan to do an unusual offbeat exciting and informative documentary of the tour, chatting to interesting locals and finding places, people and stories legends have been made of, adding live performances to the mix.
I want to explore our unique and varied South African cultures in depth and find interesting places unknown to the general public, delving deep into our country's history and characters.
I plan to be on the road for at least one year, and see where it takes me, who knows, I may even recruit some muzos along the way. I have given up everything to realise this dream. My last hurdle is to find the finance for a campervan to get the show on the road!
Bosvark is a South African rock band. We are planning a one year roadshow across South Africa.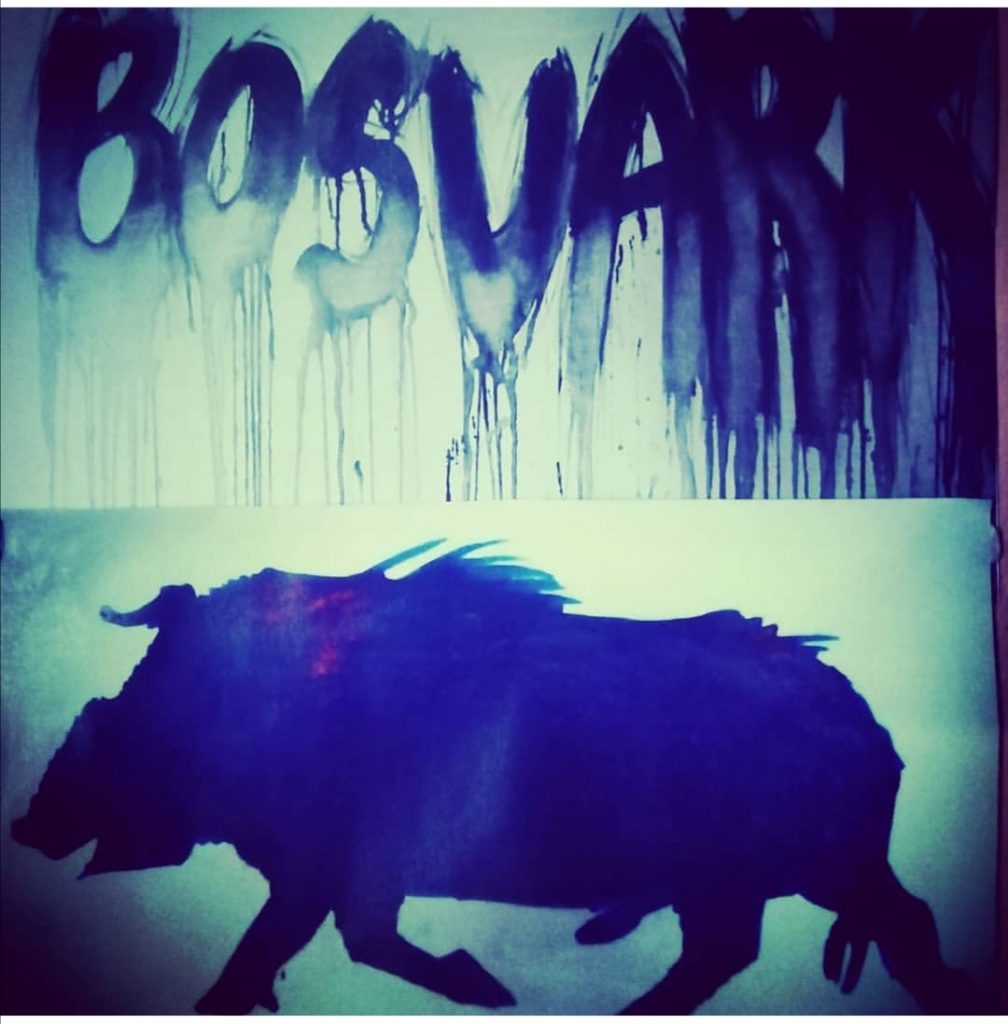 THE PLAN
We will be streaming the tour on various social media platforms, seeking out interesting people and locations in between live shows.
The idea is to make an interesting creative exciting movie loaded with unexpected fun crazy inspiring creative adventures. We want to inspire people who have a dream to go after it and project a sense of freedom on that journey and to prove that nothing is impossible if you believe and pursue your dream no matter where what life throws at you.
Our last hurdle is to find a camper van to live and work in on our journey.
YOUR REWARDS
Pledge R500 = Reward #1! Advertising on the move! 

We will display YOUR sponsorship Branding or logo on the vehicle to promote interest in the project as we travel around the country!
Pledge R1000 = Reward #2! Live Shows & Documentary!

I will create an interesting backdrop with good lighting displaying YOUR sponsorship logos and branding!
We will be streaming the tour live and I will thank my sponsors on social media and at live performances for their support in realising this dream!
Hopefully inspiring and encouraging thousands of people that anything is possible if you are prepared to follow your vision and work it. I will be editing the footage of the Roadshow after we have completed the tour.
I will be putting a documentary together of the whole experience from day one right up to the last day. All credits will go to my sponsors.
Pledge R250 = Reward #3! Free Merchandise!

All merchandise related to the Bosvark the band; for example T-Shirts, CDs free tickets to concerts etc. will be provided for YOUR sponsorship!
Pledge R2500 = Reward #4! Royalties! 

20% of all royalties earned by Bosvark through radio play, record sales, and the documentary/movie will be divided up and given to our sponsors relative to the amount contributed.
Royalties last for one hundred years, this could be a good long term investment over time.
I truly believe this Band is going to go big judging from the response I have had from Radio stations internationally.
Our music is currently being playlisted on seven radio stations online: Bollocks radio Mexico, Fist full of Metal U.K, DISTFM Sweden, Open FM Poland, Rock Chicks Radio Germany, Klienta open FM Poland, RPRI Germany
Project FAQ
Who am I?
After I matriculated I spent 5 years in Holland as a drummer in a band. I became homesick and decided to return.
On return, I studied fine art. I then joined the playhouse in Durban as a senior scenic painter and set designer for 6 years until we were all retrenched due to a lack of funding.
I have been selling my paintings, designing and carving sculptures as stage decor [ala Bollywood style] for wedding planners in Durban up till now.
Where am I based?
Why Crowdfunding?
After looking at various options to raise funds for my project Crowdfunding with the Jumpstarter team just felt right.
What is the plan once 100% funding is received?
To continue preparing for the Bosvark Roadshow in my new home until the lockdown is over, then getting the show on the road and honouring the rewards I offered to my donors, without whom none of this would be possible, and to keeping my sponsors updated and involved in the project as it progresses.