ABOUT THIS PROJECT
The Dylen Dhaver Spina Bifida Foundation was founded in the hope of raising awareness and to provide assistance to children born with the disabilities Spina Bifida and Hydrocephalus. These are two life-threatening conditions that often go unseen by society and the state healthcare system.
THE GREATEST THREAT TO THESE CHILDREN IS THE LACK OF AWARENESS
Spina Bifida and Hydrocephalus are not given much support by society and the state healthcare systems. Even though medicine has advanced so vastly in this era, South African state hospitals are still lagging far behind when it comes to the treatment of these children.
The mission of the Dylen Dhaver Spina Bifida Foundation is to raise awareness and support children born with these disabilities that often goes "unseen".
The South African state hospitals are not equipped to handle the needs of these children, and with budget restraints and limited operating theatre time, these kids are forgotten.
We need society to understand that " Every Disabled Child Has A Right To Live With Dignity"
THE BACKGROUND
The driving force behind this foundation is a tragedy, the loss of my son born with these disabilities was left to die in a state hospital because of negligence and utter ignorance about his disabilities. A state hospital where no one was competent enough to read a CT Scan!! Ten years later nothing has changed, it pains me greatly to see mothers asking for help for their children.
I am in the hope that this foundation can reach out to communities that do not have access to social media or the internet to request for help..
We want to be able to say to mothers when they reach out for their children, "YES" we can assist, whether it is for nappies or orthopedic shoes, expert medical advisors, physiotherapy or just moral support.
We want to create a  platform where these "unseen" and forgotten children have a voice.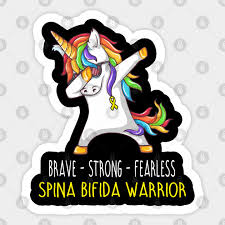 THE PLAN
We want to start where we are, use what we have, and do what we can!
Meet our warriors: TIA and ASANDISWA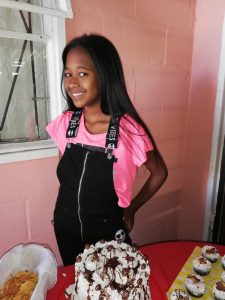 Tia is a 12-year-old girl from Mitchell's Plain in Cape Town. Tia is one of the few fortunate children born with Spina Bifida who is able to walk, however, she has no control over her bowel and bladder and still wears nappies. Tia will wear nappies for the rest of her life and the disability grant from the state is not nearly enough for her needs. Her mum reached out on social media requesting assistance with nappies, where is the dignity in that if a teenager has to resort to social media for a little bit of dignity.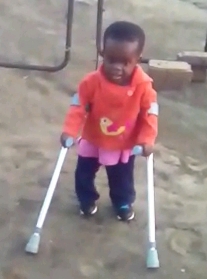 Asandiswa, a 5-year-old little girl from Volksrust in Mpumulanga. This child has to travel over 100km to Ermelo for fitting and sizing of orthopedic shoes because there is no facility in her town equipped to treat her. She still has not received the shoes as her appointment was canceled due to Covid-19. In the meantime, Asandiswa's feet have become bowed and when she tries to walk she feels excruciating pain due to her tendons being stretched. Her check-ups are in Witbank which means this child has to travel by taxi in the early hours of the morning and return very late at night just so that she can see a doctor at the state hospital.
We want to continue to assist Tia. She will be wearing nappies for the rest of her life so please help us to let this teenager live with the dignity that she deserves.
We want to continue with Asandiswa's physiotherapy and to raise funds for her shoes so that she can walk "pain-free"
There are more children out there who need our help, and we want to reach out to communities that have no access to social media or the internet to ask for help.
We want our cause to reach the rural and impoverished areas to help communities to have a better understanding of these disabilities.
YOUR REWARDS
Pledge R55 = Reward #1! A public shout out!
Pledge R750 = Reward #3! FREE copy of An Angel With A Broken Wing book! 

FREE copy of An Angel With A Broken Wing book - written by the founder of the Dylen Dhaver Spina Bifida Foundation, autographed with a personalised message to YOU!
Pledge R 1600 = Reward #4! Dylen Dhaver Spina Bifida Warrior Combo!

A spina bifida warrior franchise combo which consists of a FREE copy of the book An Angel With A Broken Wing + A warrior T shirt and cap + FREE Advertising for you or your company on our website for 1 month!
Project FAQ
Who Are We and what do we do
The Dylen Dhaver Foundation was founded in the hope of assisting children born with the disabilities spina bifida and hydrocephalus.
There is not enough support given to these disabilities and often mothers feel alone and also judged by the society which makes them believe that they are to be blamed for these defects are.
Where will the funds go?
We want these children to live with the dignity that they deserve, we want to assist with nappies, physiotherapy, and orthopedic shoes.
We want to launch a community outreach to parents that live in the rural and impoverished area to educate them and raise awareness about these disabilities.
We want to empower women in these communities so that they can understand the disabilities their children are born with and to eradicate the myths surrounding the disabilities.
How do parents manage the care of these children if they have to travel between provinces for treatment?
Only those fortunate enough to have medical aid or financial resources have access to state-of-the art equipment and life saving operations.
Where do the rest of the children go and who makes the decision that one child's life is more valuable than another's?
Spina Bifida and hydrocephalus are not third world disabilities and we should not be treat is as such!
We have already started assisting our little warriors with physiotherapy and nappies but this cause goes far beyond that, there are thousands of children born with this condition but are not being assisted by government or society.
We will need on-going funding so that these children can continue to live with the dignity that they deserve.
Where are we based?
Boksburg, Gauteng South Africa
Why Crowdfunding?
We are seeking assistance from communities and corporates because government funding is limited. The disability grant that these children receive is not nearly enough to cover their treatment. We want our cause to reach far and wide so that people can understand these disabilities better, and also the importance of providing these children with needs such as nappies, shoes and transport just to name a few.
What is the plan once 100% funding is received?
We will continue with our mission in assisting these disabled children with nappies or physiotherapy, even orthopedic shoes
We will seek medical consults for these children who have no where to go
We will take our outreach to communities and with the assistance of our sponsors and donors, we want to employ ambassadors and volunteers so that this cause and this foundation will grow from strength to strength.
We will help these children live by our motto" EVERY DISABLED CHILD HAS THE RIGHT TO LIVE WITH DIGNITY"