ABOUT THIS PROJECT
Hey, superhero of awesomeness! My project's a gem, but I need your turbocharged support to catapult it over the finish line. Help me hit the crowdfunding target with pre-orders, and we'll unlock the mysteries of my online store, unleashing my fantastic products into the wild. Let's speed this up and make my dreams a reality faster than a caffeinated cheetah! Please note we are Aiming to Dispatch your SAFE PODS™ with a dash of speed and style in JUST 14 days after the crowdfunding win, which we can only do with your support. No pity handouts here! I'm all about fair deals. Get ready for a mind-blowing discount in exchange for a genuine solution. Let's make this a win-win, shall we?
What solution do I offer? Welcome to the epic saga of the vanishing AirPods! You know the drill – you're vibing to your favorite tunes during your intense workout, and suddenly one of your AirPods decides it wants to join the floor party. It's like they have a secret escape plan or something!
But fear not, my fellow music-loving warriors, because we've cracked the code to save your precious AirPods from their rebellious tendencies. No more heart-stopping moments as your expensive gadgets make a break for it. We've got the solution you've been waiting for!
Say goodbye to the earbud Houdini act, the floor dives, and the risk of scratches, dirt, or worse. Join the campaign, be a hero to your AirPods, and let's keep those earbuds right where they belong – in your ears, and not on the run! Together, we'll make sure your AirPods have a safe and cozy home, snugly tucked in your ears where they belong. Let the battle against the AirPod escape artists begin!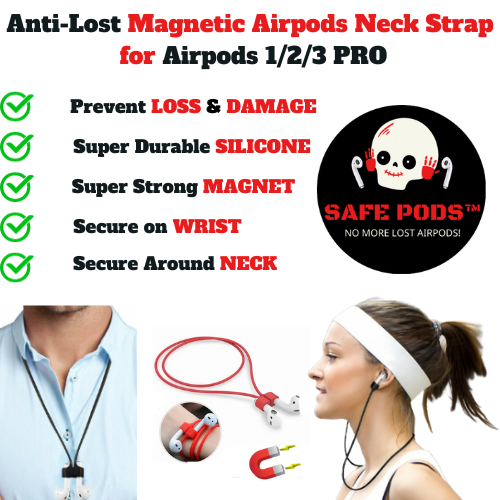 THE BACKGROUND
Ever lost an Apple AirPod, not just once, but twice, in the great outdoors? As they say in Afrikaans, daar is nie pille vir domgeid nie (there are no pills for stupidity). Now, this is a personal tale of lessons learned—the hard way.
It's a bit like realising you need a cellphone screen protector after that heart-stopping drop. The quest for a simple solution to prevent the loss or damage of my AirPods led me down a road paved with expensive and impractical options. I've tried it all, worn the T-shirt, and the struggle was real.
But fear not! The adventure didn't end there. So, what's the solution? Let's dive into the quest for the holy grail of AirPods security.
THE PLAN
What's the remedy, you ask? Say hello to SAFE PODS™ - the New Sport Magnetic Silicone Anti-lost Neck Strap. It's simple, comfy, budget-friendly, and, you guessed it, safe.
Picture this: Invest in peace of mind and shield your AirPods 1, 2, 3, Pro from the wallet-worrying risk of loss with our premium SAFE PODS™, the New Sport Magnetic Silicone Anti-lost Neck Strap. Losing AirPods? It's a universal dilemma, and the replacement hit hurts. Our sporty neck strap is the superhero solution—secure, hygienic, and built to last. It cradles your AirPods snugly, whether they're on your ears or safely hanging around your neck. And the design? Ultra-thin silicone sleekness that's tougher than it looks—now that's a smart investment.
Perfect for all your antics, be it running, cycling, or pumping iron at the gym, these sporty neck straps keep your AirPods snug, reducing the risk of pricey replacements. Kid-friendly too, because no one needs the extra expense of lost or damaged AirPods.
Feel the luxury with our straps crafted from an ultra-soft silicone coating, ensuring a cozy fit around your neck without a single hair yank.
And let's talk quality—SAFE PODS™ are lightweight, resilient to temperature extremes, pollution-free, waterproof, and tear-resistant. Now, that's a package deal you won't want to miss.
Hold onto your AirPods, folks! The final product is a wrap, all set for action. But here's the scoop—we're R15,000 short to kick off the grand shipment spectacle, and we're turning to you, the Apple AirPod enthusiasts, for a superhero save.
How can you be part of the rescue team? Simple! Snag a generous discount on pre-orders. We're talking a retail price of R170, but by diving into the pre-order action, you're in for a treat—a tasty DISCOUNT. (Disclaimer: AirPods not included. We know you've got that covered, but just a gentle reminder!)
And here's the cherry on top: YOUR PRICE INCLUDES SHIPPING ANYWHERE IN SOUTH AFRICA. No surprises, no hidden fees—just pure, unadulterated AirPod protection on its way to your doorstep.
So, what are you waiting for? Secure your SAFE PODS™ at a steal, and let the AirPod adventures begin!
YOUR REWARDS 
Pledge R290 = Reward #1!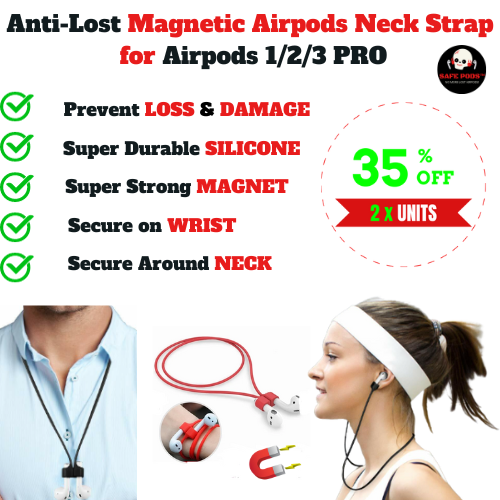 2 X SAFE PODS™ Units - Delivery Included 
SAVE 35%

Usual Price:

R175 x 2 = R350
Shipping = R95
Total Cost = R445

SAVING: R445 - R290 = R155
SAVE 35% !!!!!
Pledge R450 = Reward #2!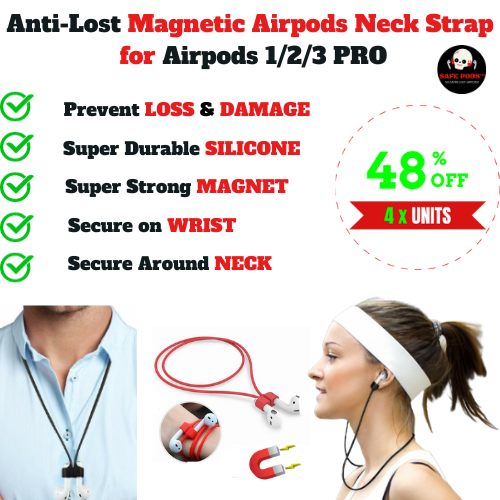 4 X SAFE PODS™ Units - Delivery Included .
SAVE 43% 

Usual Price:

R175 x 4 = R700
Shipping = R95
Total Cost = R795

SAVING: R795 - R450 = R345
SAVE 43% !!!!!
Wholesale Pledge R1750 = Reward #3!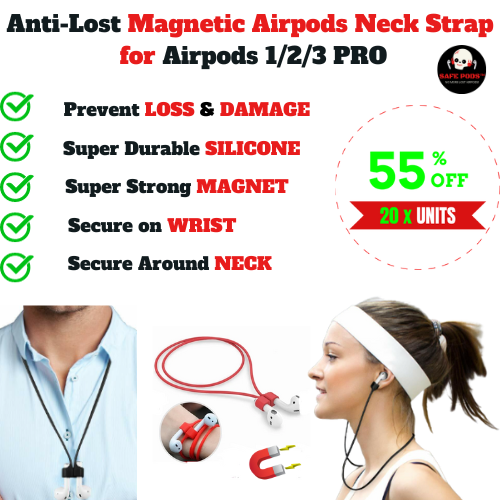 20 X SAFE PODS™ Units - Delivery Included.
SAVE 60% - Delivery Included

Usual Price:

R175 x 20 = R3500
Shipping = R95
Total Cost = R3595

SAVING: R3595- R1750 = R1845
SAVE 51% !!!!!
Wholesale Pledge R4845 = Reward #4!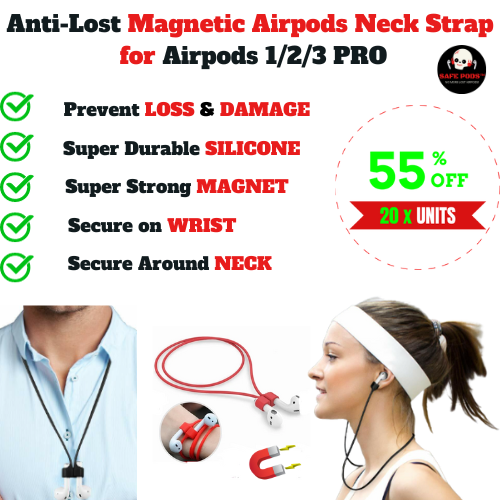 50 X SAFE PODS™ Units - Delivery Included.
SAVE 55% - Delivery Included

Usual Price:

R175 x 50 = R8750
Shipping = R95
Total Cost = R8845

SAVING: R8845- R4000 = R4845
SAVE 55% !!!!!
OK, I'M IN, WHEN CAN I EXPECT DELIVERY
Fingers crossed, high-fives in the air! If this campaign whirls into success, and we hit the magic number needed to seal the deal, get ready for a festive treat. Your SAFE PODS™ will be waltzing their way to you in 14 days + if this campaign reaches it's target. So please help me reaching my target and I will jump through loops to get your SAFE PODS™ to you ASAP.
Imagine it: just in time for the holiday cheer, your AirPods will be snugly cradled in their SAFE PODS™, ready for all the festive beats and merrymaking. It's not just a delivery; it's a December delight, and you'll be the proud owner of the coolest accessory on the block.
So, let's make this happen, and let the countdown to your SAFE PODS™ joyride begin!
Project FAQ
Who am I?
Hey there, legends! I'm Ben van der Walt, a serial entrepreneur. My passion? Tech, business development, and finding solutions hiding in plain sight. My mission? Take those solutions and make them the superhero of your everyday life.
Why should you invest in my mission? Well, I'm not just here to slap my name on any old gadget. I'm your solutions matchmaker, connecting you with the solutions you never knew you needed.
See, I've been on the lookout for a gadget that could rescue us from the eternal struggle of losing our precious AirPods. Now, I'm not saying I'm a superhero, but have you ever seen me and Batman in the same room? Pod Safe™ is the actual superhero we've been waiting for. It's about backing a solution that makes your life easier and a bit more fun.
I would really appreciate your support as this gives me the opportunity to get me closer to my goals whilst providing you with a solution and a quality product.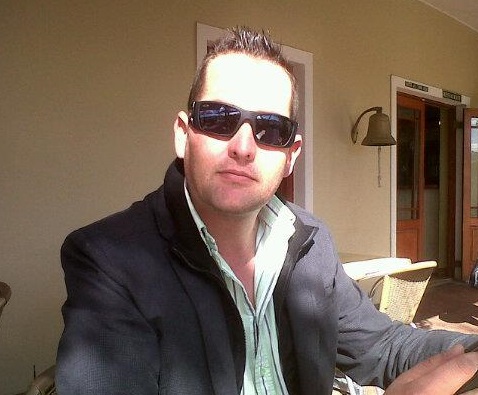 Where are we based?
Cape Town, South Africa
Why Crowdfunding?
Now, let's pull back the curtain and spill the beans on why we're cruising down the crowdfunding avenue. Picture this: after investing a chunk of time and money into finding the perfect solution, crowdfunding is our ticket to soaring over the finish line with a flourish—thanks to your pre-orders. This also allows for your valuable feedback and market penetration.
Here's the real talk: Your support through crowdfunding isn't just about getting a stellar product; it's a golden opportunity for us to tap into the wisdom of our superhero community—you! Your feedback will be our North Star, guiding SAFE PODS™ to its fullest potential.
And let's address the elephant in the room. Life threw a curveball my way—a little accident that left me immobile for almost two months. It was a tough financial hit, not gonna lie. But here's the deal: everyone's got their challenges, right? I'm not here for a handout; I'm here to offer you a top-notch product and grow this business into something spectacular.
Crowdfunding isn't just a lifeline; it's the express lane to bring SAFE PODS™ to market faster. And trust me, we've got more tech wonders in the pipeline, but let's not get ahead of ourselves. This campaign is about creating something amazing together.
So, why join the SAFE PODS™ revolution through crowdfunding? Because you're not just backing a project; you're becoming a part of the journey. It's a chance to be a pioneer, a test pilot, and, most importantly, a superhero for your AirPods. Ready to make tech history? Buckle up, it's going to be one legendary ride!
What is the plan once 100% funding is received?
What's the game plan once we hit that glorious 100% funding mark? Buckle up, because we're about to spill the beans on our superhero strategy:
First off, let's talk about integrity. Step 1 is all about honoring our word. To you, our SUPER HEROES, who had our back when we needed it most, we're diving headfirst into fulfilling all those pre-orders. Your trust deserves nothing less.
Hold on tight because there's more excitement coming your way! Get ready for exclusive updates, a backstage pass to witness your SAFE PODS™, and other products in the near future, come to life—from behind-the-scenes sneak peeks to major production milestones.
But the adventure doesn't end there! Your funding isn't just a one-hit wonder for SAFE PODS™; it's a golden ticket to a tech-filled future. We're putting those funds right back into the mix, completing our website, and exploring thrilling new solutions that'll keep you on the edge of your seat. I am in the process of building the website, www.safepods.co.za, and fulfilling the order will also afford me the time to sell SAFE PODS™ through our website and spread the love. Your support isn't just a transaction; it's an invitation to an adventure that keeps getting better and hopefully, I can pay this forward!