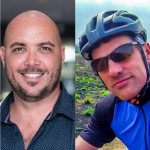 Michael Gladwin
We are Dimitri Nenkov & Michael Gladwin.
Cycling24 is our new baby and we are very excited for you to be a part of it.
Dimitri has been riding since he was 4 – so only a few short years (around 40-something). Second to his kids, riding is the best thing that happens to him, every day.
Going back to the days of the BMX in the mid 80's, he was an avid BMX'er. He started mountain biking in 1990. It didn't take long and Dimitri had moved into the race event planning and hosting side of the cycling world. With over 50 races under his belt, as the race director and organizer, the 24-hour Race concept is like a walk in the park for him. He has achieved great success with all races across the country, especially his OmniMotion24 MTB race, which he ran for 15 years.
Mountain Biking is not all. Dimitri has been involved in most cycling disciplines including road, track, MTB, BMX & Cyclocross. He has also recently launched a new cycling craze – Rapid Attack – a new style of indoor, face paced racing.
And the best part – he is potentially Cycling24's most lucrative customer, having owned more than 100 bikes in his time.
Michael is the owner of The Travel & Event Company – a full service travel agency and event management company. The past 15 years have seen Michael creating incredible experiences for corporates and leisure clients around the world. Having produced some of the biggest events, brand activations and conferences for corporates such as Nokia, Microsoft, Discovery, Bosch, Sage, Standard Bank and many more; Michael's experience and knowledge in the event sphere brings a great synergy to Dimitri's cycling knowledge. He has also been fortunate to travel the world and build relationships with an uncredible array of travel buyers and tour operators, giving him direct access to an international market of avid cyclists. Michael is a novice cyclist, so luckily his expertise will be required in making a success of the events, expo and tours.
Collectively, our experience in all things cycling, eventing and travel make us the perfect team to develop and build our dream of Cycling24.
Be part of our journey and you will benefit on all of our products, for life.