ABOUT THIS PROJECT
During the 2023 Heritage Day weekend (23-25 September), nature's wrath was unleashed with astonishing force on the Western Cape, tearing off roofs, submerging roads, flooding rivers, and isolating communities from the outside world. This event meant that the Overberg region of the Western Cape experienced more rainfall in three days than it had in the previous two months. This was caused by what is called a "cut-off low-pressure system".
This phenomenon caused the South African Weather Service to issue an unprecedented Orange Level 9 warning. Most people had never heard of this Warning System before, so we had no idea what we were in for... what followed was an unmitigated disaster involving floods, damage to infrastructure and isolation.
Please support us in raising funds to get our doors back open and keep our team members employed. The goal is to raise R150000 - this will cover our wage bill for one month.
About Blue Gum
Blue Gum has been in the de Kock/Gibson family for 24 years.
We are an extended family of 21 team members.
We support approx. 15 families through the employment of our beloved team- they all live in the village of Stanford, 10 km away from Blue Gum.
Our Passion is people. We run a cafe and restaurant (Campbells Cafe), vineyards (Campbells Peak Wine), and accommodation on site - Our love for the farm, the family, the team and every guest that we have the privilege to serve runs deep.
THE BACKGROUND
The disastrous flood that occurred has washed away our bridge, knocked out our electricity supply (we have had no power for close on 2 weeks as of 7th October) and made our road access extremely difficult and hazardous - the timeline period for repair of the bridge is indefinite.
We would like to spend any funding we get to provide for our Blue Gum team contingent and to keep them and their families safe - we have found alternative work for them to do on the farm, focusing on opportunities for growth.
THE PLAN
We have had a meeting with all of our staff and they are on board to assist us with our project of rebuilding, so after 10 days of creative re-direction post flood they have joined us to stay on-site at Blue Gum. This is a brave choice they have made as it means some of them are away from their families. We are so proud to see and appreciate the sacrifices they have made for the continuation of Blue Gum & it's provisions.
They will sleep on site for 3 nights and work for 4 days a week - the fifth day they will spend at home and use this time to up-skill themselves. We will provide directed reading, research and resources relating to their careers in the hospitality industry, service, cookery and tourism marketing. Learning more about our Blue Gum brand and heart for hospitality and tourism in the Western Cape and Stanford.
Whilst they are with us on the farm they will be introduced to new skills like building and maintenance, paths and paving, road building, recycling, water management, and much much more.
YOUR REWARDS
Vouchers
Buy a Voucher  for your next visit to Blue Gum or at our restaurant, Campbells Cafe. Your voucher will be valid for 1 year from the date of issue (after the campaign has closed).
Pledge R300 = Voucher #1

Breakfast for 2 at Campbells Cafe

Pledge R500 = Voucher #2 

Sunday Lunch for 2 at Campbells Cafe

Pledge R1000 = Voucher #3 

Case of 6 Unlabelled Campbells Peak Sauvignon Blanc 2023 (includes shipping)

Pledge R1600 = Voucher #4 
Pledge R2400 = Voucher #5 

1 Night Stay for a family of 4/5 (B&B)

Pledge R2200 = Voucher #6 

One Night Stay for 2 people (DBB)

Pledge R3200 = Voucher #7 

One Night Stay for a family of 4/5 (DBB)

Pledge R25000 = Voucher #8 

Book out the entire lodge (35 guests) for 1 night (B&B)

Pledge R50 = Voucher #14 

Pledge R50 and buy a raffle ticket to enter yourself in the draw to win an AMAZING Prize
Donations
Donate R300 = Gift #9

Keep our generator going in order to facilitate communications

Donate R1250 = Gift #10

We are feeding the team breakfast, lunch and dinner daily - Donate to assist with the purchase of 1 day's worth of food for the team.

Donate R2500 = Gift #11

We are feeding the team breakfast, lunch and dinner daily - Donate to assist with the purchase of 2 day's worth of food for the team.

Donate R3750 = Gift #12

We are feeding the team breakfast, lunch and dinner daily - Donate to assist with the purchase of 3 day's worth of food for the team.

Donate Time and Expertise = Gift #13

Do you want to be a part of this chapter of restoration - can you offer us any skills in consulting, marketing, PR, media, or financing solutions?
We would appreciate your direction and assistance in making ends meet at a time when we have little to no income. Pop us a message at reservations@bluegum.co.za
T&C's
Voucher amounts must be used in a single purchase
Vouchers are transferable but not refundable.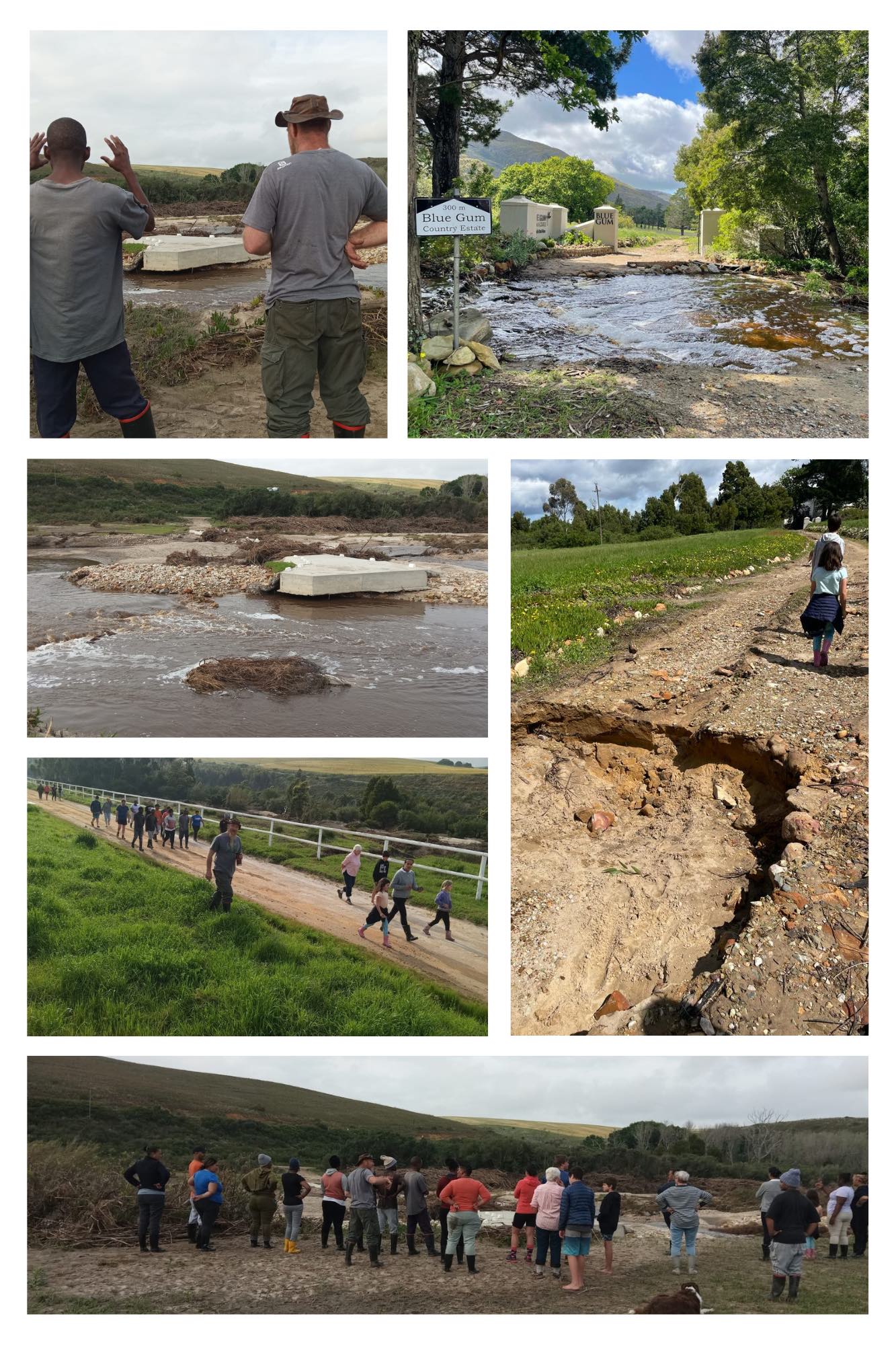 Project FAQ
Who are we?
We are Blue Gum Country Estate and Campbells Cafe, a family-run guest house and restaurant in the beautiful Western Cape Overberg town of Stanford (about 20km from Hermanus).
We have a family of 21 Staff that are passionate about what they do.
We are a long-established hospitality enterprise in the Stanford Valley area (celebrating 25 years of being in business in 2024).
Where are we based?
7km outside the town of Stanford. Overberg. Western Cape. South Africa.
Why Crowdfunding?
We are fervent about keeping our staff employed and because we love our Blue Gum family, we feel as leaders and owners of our business to keep our staff employed during this difficult time and make a plan to allow them to work irrelevant of the circumstances.
We have organised to bring our staff into work on our back road (which is rather hazardous and inaccessible to guests in the meantime) and they have kindly agreed to stay on-site to support their opportunity to stay employed.
They will be helping us to rebuild and repair our property, our roads, and our water supply, which has all been affected by the flood damage.
This is a brave choice they have made as it means some of them are away from their families, young children, or elderly parents that rely on them. We really see and appreciate the sacrifices they have made.
We have committed to pay them their salaries at the end of this month despite the interruption to our business operation and lack of revenue.
What is the plan once 100% funding is received?
We want to use the funding towards the expenses and business revenue lost to support the staff team, to pay them their salaries for their hard work, commitment, and sacrifice to stick with us despite the situation and circumstances.
We are hopeful to be able to generate enough to cover the costs of keeping the estate open and running.
We are needing to run generators (the power has been out for 13 days as of 5th October 2023) and supply our 21 staff with meals and accommodation daily here on the farm.