Jumpstarter Crowdfunding team is very excited to offer the great prize of winning one High-end / Upper Market Retailer FREE Pop-up Shop at the largest consumer event in Africa, Rand Show!
Herewith is more detail and the value of the prize.
It's our privilege to invite you to be part of the largest consumer platform in South Africa (220 000 adults visited the show in 2015), the Rand Show. The Rand Show is a truly iconic South African brand that has been part of the fabric of the lives of generations of South Africans making family memories for 122 years. The Rand Show is more than just an exhibition … it is a multi-faceted event offering something for every family member and providing myriad opportunities for families to Rediscover the Rand Show.
The modern Rand Show revolves around families, their interests, lifestyles and living spaces. The Rand Show navigates families on a journey through eleven themed shows within the Rand Show catering for every family member from the Man Cave through Home Living through Kids Kingdom and so much more. The Rand Show remains South Africa's largest consumer engagement platform.
The FACTS:
Dates: Friday 25 March – Sunday 3 April 2016
Duration: 10 Days
Hours: 09h00 – 19h00 Daily, Ticket sales and gates close at 18h00 daily
Venue: Johannesburg Expo Centre, corner of Nasrec & Rand Show Rd, Johannesburg
The PRIZE is the following :
9 square metre Pop-up Store:

9 square metre Floor space + Walk on Package
R1 275.00 X 9sqm= R11 475.00 (floor space)
R2 500.00 Official show guide advertisement
R395.00 X 9sqm = R3 555.00 (walk on package)- (shell scheme walls, name on fascia board, electricity db box, 3 spotlights, carpets)
Subtotal: R17 530.00
14% VAT: R2 454.20
TOTAL: R19 984.20
TO ENTER

Please EMAIL YOUR ENTRY to win@jumpstarter.co.za.
You MUST be a registered Jumpstarter PROJECT CREATOR.
Your EMAIL SUBJECT must be titled "Rand Show 2016 entry".
You MUST include your Jumpstarter USER NAME and RETAIL PRODUCT / COMPANY name.
You MUST include the reason and explanation to why your RETAIL PRODUCT / COMPANY should be selected as the WINNER of the Rand Show 2016 Pop-up Store.
For the WINNER to be chosen, your offering must = LSM 8-10 market, Broad Consumer Market and be fit for families.
Entries will be accepted UNTIL 10 March 2016.
Chosen WINNER must ensure a provided Jumpstarter Crowdfunding logo is used clearly in their 9 square metre Pop-up Store.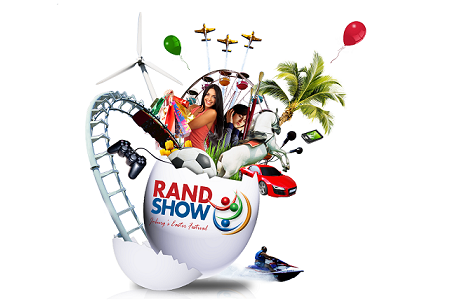 Themed Shows within the Rand Show is:
Indoor
Home Living
Food Experience
The Man Cave
Showcase South Africa
Science & Tech Lab
Kids Kingdom
Fashion, Beauty & Wellness
International Market Square
Outdoor
Gardens & Outdoor Rooms
Outdoor Adventure
Pets & Animal Kingdom
You can access further information on How To Exhibit at the Rand Show here.