Indibano Youth Development is a non­‐profit organization located in the township of Vrygrond, Cape Town, South Africa.
Our Primary Objective
To combat unemployment amongst vulnerable youth, by equipping them with life skills, work skills and computer skills that will make them more employable.
Most of the youth that we work with are from very disadvantaged backgrounds and broken families, thus making it very difficult for them to complete their schooling and improve their own standards of living.
By participating in our program, these young people are given a chance to complete their education, find employment and support their families.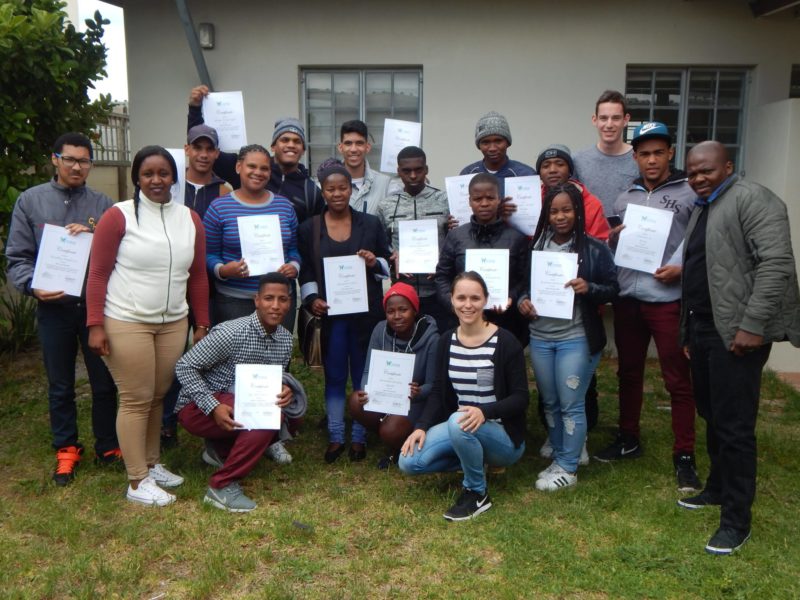 We further support them with:
Catering: 2 Meals a day during our program
Dentistry: For those without front teeth, for interviews and employment
Learners & Drivers Licence: For better positions and salary packages
Financial Support:
To further their studies
To travel to interviews
For first month of employment
We have challenges with providing all the support to our candidates and we would like your help and support.
About the author:
My name is Chwayita Oniwe, 29 years old, originally from Queenstown in the Eastern Cape.
At the age of 5, my family decided to relocate to Cape Town, in order to improve our standard of living and better education. I completed my matric at Heathfield High School in 2006 and then did a diploma in Business Management at Rosebank College (2007-2009).
During the time of my studies, I worked as a waitress every day after College to pay for my studies. In 2010, I became a participant in the above-mentioned program where I then got an opportunity after graduation to volunteer and be part of the team.
I have been with the program now for seven years and currently in the position of Program Coordinator.
Project FAQ
What is the vision of our program?
Our main vision is to combat unemployment through educational skill development to create sustainable opportunities for young people and to make them employable.
What's the duration and the structure of the program?
Our program is for a period of six weeks, every Monday to Friday from 9 am to 3 pm.

Week 1: Life Skills
Week 2: Communication and Work Skills
Week 3: SRH (Sexual Reproductive Health)
Week 4-6: Computer Skills (Computer Basics, MS Word, Excel, Power Point, Email, Application)

After completing the six weeks of training, our students then attend the support group which is basically a space where we can contain them and then offer them the program benefits:

Job Placements and Interview Support
Learners and Drivers License Program
Further Studies and Training Opportunities
Entrepreneurship and Business Support
Dentistry and Spectacles
Clothing for Job Interviews, Food Parcels and Toiletries
How many students participate in one course?
One course has between 15 and 25 participants.
How old are the participants of the courses?
Our participants are between 17 and 30 years old. Most of our intakes consist of female participants.
Who does our team consist of?
Our program has its own facilitator that does the facilitation on week 1 (Life Skills).
In the second week (Communication/Work Skills), we use service providers for this section of our training e.g. NYDA (National Youth Development Agency), Department of Labour, Department of Economic Development and FunDza.
In week 3 (SRH), we collaborate with TB/HIV Care, Living Hope Capricorn and the Seawinds Health Clinic. These providers are then used to educate our students on these health matters.
After the sessions with our external service providers, our facilitator wraps up every week.
During Week 4-6 the students are taught by German students volunteering in the Computer Lab in Vrygrond. This volunteer work is organized by a student group called InitiAID of the university in Pforzheim (www.initiaid.de).
In addition to the above, we also have our project team consisting of:

Program Coordinator (Job Placements and Partnerships, Marketing and Advertisement, Daily Operation of Program)
Program Administrator (Recruiting and Advertisement, Data Base Management and Capturing, Financial Management)
Program Chef (Catering)
What do we intend to do with the funds?
This is how our funds will be used:

Program Activities such as:

Training Materials (soccer balls, flipcharts, etc.)
Catering
Retention Services (Learners and Drivers License, Dentistry, etc.)
Office Expanses (Rent and Levies)
Salaries

The funds that we are currently requesting are for one group and we will then be receiving financial support from February 2018, through the Youth Bridge Trust, funded by the Ford Foundation.
What do the participants eat daily?
There is a break in the morning with warm drinks (coffee and tea) and a lunch break, which includes a warm meal (e.g. pasta, rice and chicken) and cold drinks.
Is it possible to visit the Vrygrond Community Centre?
The Vrygrond Community Centre is located at 42 Vrygrond Avenue in Capricorn (Muizenberg, Cape Town). If you want to visit the Centre, you can contact Chwayita Oniwe (0217021428, coniwe@gmail.com)