ABOUT THIS PROJECT
Raising funds to take my wedding videography business to the next level with a much-needed gear upgrade.
My passion is videography… I need help to take my videography business to the next level with an urgent gear upgrade so that I can focus full-time on wedding videos now. I lost my job as a tour guide during 2020, so my travel videos will need to be put on hold for a while, allowing me an opportunity to focus all my attention on the wedding industry.

Any donation will be greatly appreciated! In return, I'm offering some great rewards for those looking for wedding videography deals ;-)
THE BACKGROUND
About Me:
My love for videography started at a young age and at times it fell dormant as life got in the way. I was told that making videos could never be sustainable and that I should focus on getting a real job.  As years went by I found myself wishing that things could be different. Towards the end of 2019, I dusted off the camera and started filming again. I've filmed travel videos, YouTube episodes, small commercials for friends and family - you name it.  
In 2020 I started a small part-time wedding videography freelance business and eventually found a perfect balance where I was able to be a tour guide in South Africa during the week and a lone ranger wedding videographer on the weekend. Slowly but surely it was growing and it seemed like I could make a full-time career out of this. Sadly Covid hit and by the end of 2020, I found myself surviving on all the money I'd saved for gear upgrades while facing a large number of cancellations for weddings and tours.
Since COVID-19 hit, I had to depart with one of my passions (tour guiding), but now my other passion is going to get all my attention. Wedding bookings are coming in again and I'm now full-time into the wedding and couple videography - and I'm stoked! 
Why I Need Your Help:
Right now, my one and the only limitation is my gear. Wedding inquiries are coming in hot and fast, and I want to be able to offer my clients the next level of quality in 2021.
My editing skills are continuously advancing, but my current camera gear can only achieve so much. I'm looking for crowdfunding donations to help me gear-up so that I can take my videos to the next level. 
A gear upgrade means I can take part competitively in the wedding industry while using my creativity to its full potential. Funding from you means I'm able to keep my passion and livelihood alive.
But I'm not asking for free hand-outs… I'd like to give something in return. 
What I'm Offering In Return For Your Help:
I film creative and unique wedding videos that aim to showcase your special day with flair and personality and leave you feeling like you just watched the best love story ever! As a token of my gratitude, I'm offering up my services in return for your pledge.
The main reward is a Full Wedding Package which is called "Set The Scene", worth R7000, and a wedding website designed by Owl & Pigeon.
If you're looking for a wedding videographer, let's help each other out!
THE PLAN
Reaching the financial goal means that I can stay in the videography game and deliver my creativity without technical failure. I would be able to upgrade my camera, which is outdated and about to explode (it can't handle the hot summer climate of the Karoo and the Garden Route) to one that will be able to keep up with the demands of 4k resolution and high-quality footage. I would also be able to shout at the top of my lungs "we are back in business baby, YEAH!"
Right now, this would be a dream come true. I still have a bit of a mountain to climb from here as I do need to purchase other equipment later that will take me one step further in videography.
If I achieve the full amount, then that means I can upgrade to an even higher quality DSLR camera that will keep me at a very competitive level for the next 3-4 years. I would be able to purchase some specialized equipment, such as a gimbal to take the film quality to a higher, more cinematic level. I would also be able to purchase a high-quality lens. 
What happens if I achieve my goal? 
I intend to keep growing my videography career. From here my 5-year plan is to branch out my video skills to fields such as real estate videography, commercials, music videos, and low budget documentaries on the side, while still filming romantic weddings as my main business.
YOUR REWARDS
Pledge R4500 = Reward #1! Full Wedding Package and a Wedding Website valued at R7900!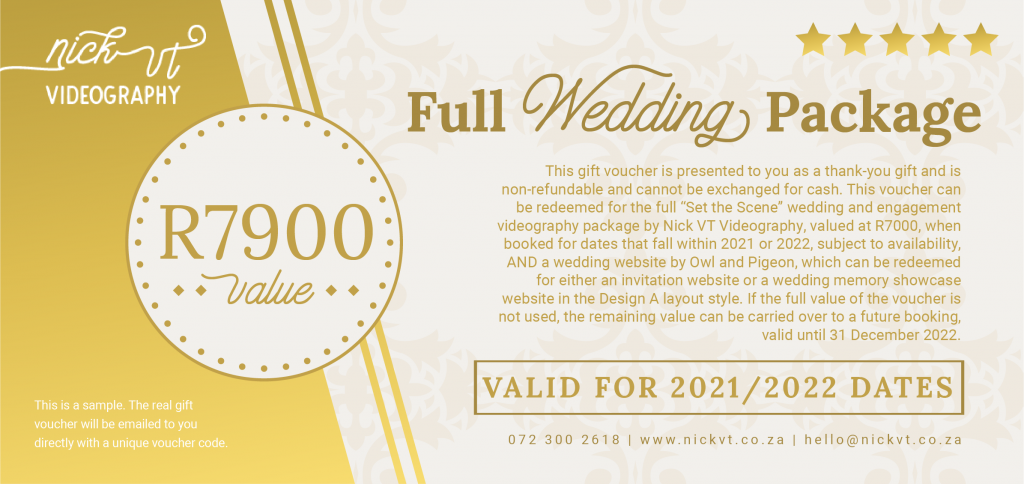 By donating R4500
You will receive a  FULL wedding package valued at R7900 and a Wedding Website designed by Owl & Pigeon
Your package includes:


3-4min HD Wedding Highlight Video
50-60 sec Engagement Video OR 1-hour extra filming for your wedding
30sec Social Media Preview
6 Consecutive Hours of Filming
One Videographer
1 Wedding Website (invitation website or memory showcase website)You can book your wedding between Feb 2021 & December 2022

Pledge R4000 = Reward #2! Standard Wedding Package Valued At R5500!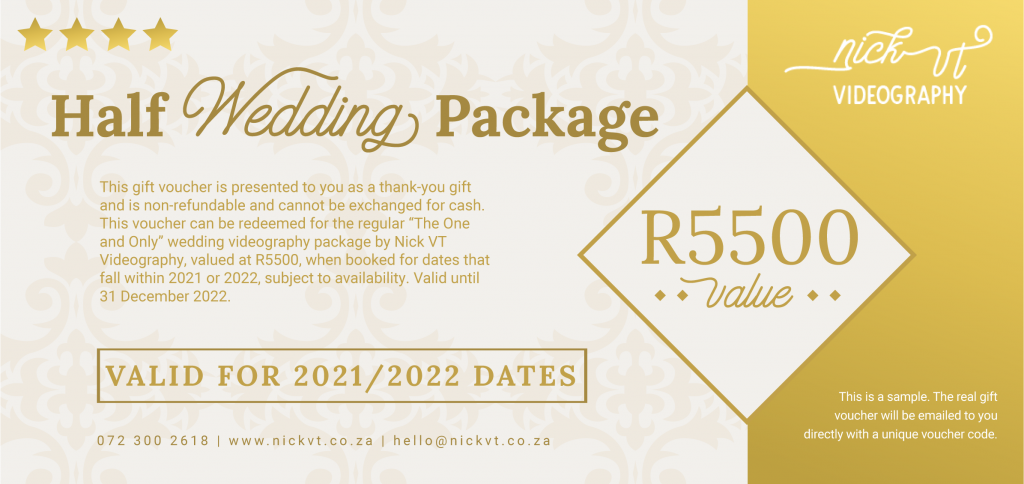 By donating R4000
You will receive a standard wedding package valued at R5500!
Your package includes:


3-4min HD Wedding Highlight Video
30sec Social Media Preview
6 Consecutive Hours of Filming
One VideographerYou can book your wedding between Feb 2021& December 2022

Pledge R3000 = Reward Voucher Valued At R4000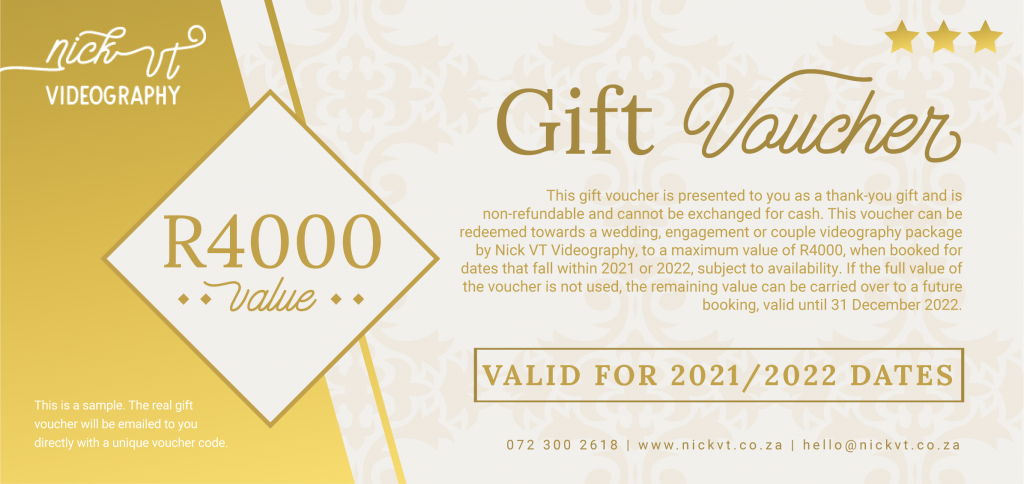 By donating R3000
You will receive a videography voucher valued at R4000!
This can voucher can be used for:


A Couple Shoot
An Engagement Shoot
Family Shoots
A unique project or video (let's brainstorm this together.)This can be redeemed from Feb 2021 - December 2022
Voucher ownership can be transferred once.
Project FAQ
Who am I?
I'm a super positive and energetic videographer that loves capturing special moments as they happen. For a long time, I've dreamt about being a full-time videographer and at this stage in my life, I'm finally giving it a go.

After living through the financial stress of 2020 I've realized that life is short and precious and we only get one. It's time to live and make memories!

With that said, wedding videography is where I want to be. 

If I'm not behind a computer or a camera then I'm out exploring with my wife and french bulldog.

A little while ago I had the honour of showing travelers around in our beautiful country as a tour guide; this led me to film and editing travel videos, and then I got engaged and found the wonderful, romantic world of weddings...

If I'm able to build a career in videography then I will have achieved one of my biggest dreams. My goal and drive for my business is to deliver a product exactly how my clients wanted and envisioned, in my unique style, at the highest possible quality.
Where are we based?
Why Crowdfunding?
As weddings bring people closer together, I feel like crowdfunding does too.
It's a great feeling to know that I could be backed by humans that understand creativity and it would be even better to be able to deliver my services to someone who took the time to invest in me.
What is the plan once 100% funding is received?
Buy the new gear, new camera, and supporting equipment.
Carry on marketing my business in full with full confidence and doing what I love and make people happy.
Get in touch with all my backers to say thank you, and to find out when we can start making magic happen for their special day.
Once I have secured enough bookings to support my expenses, I will start venturing into other fields of videography.