We know that Christmas is a great time of year to run a fundraising campaign.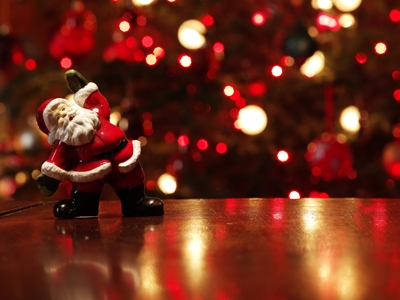 Have you ever thought about a Christmas crowdfunding campaign?
Crowdfunding can raise money, support and awareness for your project. But a Christmas campaign can capture the imagination of your community, especially if the rewards you offer can double up as Christmas presents. Pledge to a good cause and get your Christmas shopping done in one go!
From community Christmas trees to Christmas dinner for carers and presents for young people who need them most; last year community groups raised funds through crowdfunding campaigns.
So what is crowdfunding?
Crowdfunding is a way of funding a specific project by raising donations from people, usually through a time limited online campaign.
It's not a new thing; war memorials, plaques and benches have been funded by small donations from communities for centuries. But the way that social media has developed has provided the perfect conditions for crowdfunding as a fundraising tool to flourish enabling people to share the campaign and their donations to help widen the reach.
Jumpstarter, South Africa's successful rewards based crowdfunding platform share their tips for getting started with your Christmas campaign.
Getting started with your crowdfunding campaign
Crowdfunding platforms, like Jumpstarter, make it easy to set up a campaign and take the hard work out of handling donations. But before you get started, there are some things to think about – most important of all is your story.
Tell your story
People need to understand your story, why it is so important to you and why they should support it. Using video, images and inspirational words, the stage is set for you to explain how your idea will help, why people should care and how their pledges will be used.
Set enticing rewards
Along with your story, the backbone of any successful campaign are the rewards you offer. Rewards are the reason why the average pledge on Jumpstarter is fives times higher than on donation-only sites.
Brainstorm ideas with partners – think about what your audience will want to pledge on
See if any local businesses want to offer rewards
Be creative and inventive – supporters will love rewards that money can't usually buy, such as golden tickets or master classes or once in a lifetime experiences
Try to offer a mix of low and high cost rewards.
Share share share
Once the campaign is ready, you need to tell everyone you know about your campaign.  Then get them to tell everyone they know to amplify your project.
Make sure to keep everyone up to date on the success of your campaign.
You could try to get local businesses to match fund donations made one one day.
Start your Christmas campaign on Jumpstarter
Get inspired
Overfunded raising R15500 of R15000 target
Through crowdfunding with Jumpstarter, they were helped with achieving their goal for holding a Christmas event, giving over 5,000 children a Christmas gift, which includes: clothes, educational materials, hygienic materials, toys and a meal – and couldn't have done this without the support received!
We wish then the best of luck and look forward to updates for further success!